Iain White is a Technology Manager with over 36 years experience working in IT.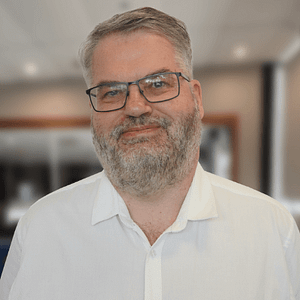 Meet Iain White, an experienced executive technology leader with over 36 years of driving technology transformation and enhancing business capabilities.
With his expertise in IT Governance and Agile methodology, Iain has successfully introduced these approaches as key drivers of digital transformation. He has managed multi-stack software projects and served as a Scrum Master for offshore cross-functional development teams. Iain has also provided Agile/Scrum training and technology advice to multiple companies.
Iain has a proven track record of overseeing web and mobile app development and implementing DevOps for AWS and Azure infrastructure. As a company Security Officer, he has extensive experience in IT Risk Management and identifying cost-saving measures for IT projects.
Throughout his career, Iain has developed and implemented successful technology strategies aligned with companies' goals and objectives. He has led teams of engineers and technologists in designing, developing, and launching new products and services that meet customers' needs and expectations.
Iain has also established strong partnerships and collaborations with other companies, academic institutions, and industry associations to leverage technology advancements and stay ahead of the competition.
As an active participant in industry events and conferences, Iain shares his knowledge and insights, building his reputation as a thought leader in the technology field.
If you're looking for an experienced executive technology leader to take your business to the next level, look no further than Iain White.